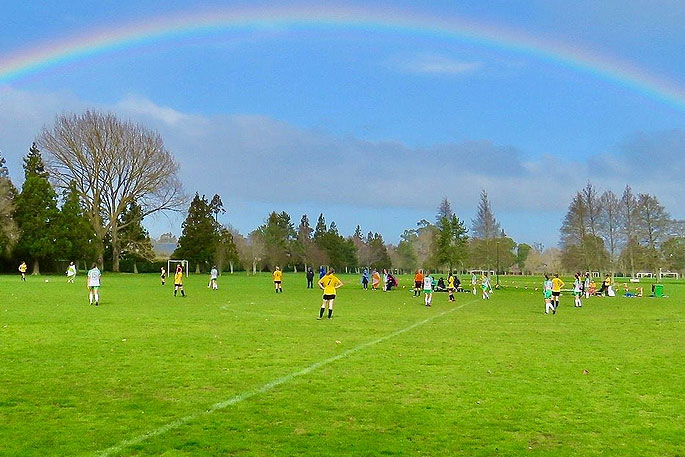 SunLive – First home game since WaiBOP W-League win
There will be a celebration at Fergusson Park this weekend as Otūmoetai United play their first home game since winning the WaiBOP W-League.
United clinched the title last weekend with a resounding 10-1 win over Waikato Unicol at Jansen Park in Hamilton.
However, as director of football Joe Dixon explains, it was not until their sister club Otūmoetai FC and second-placed Lakes FC played against each other that the championship was confirmed. A 2-2 draw in that match secured top spot for United.
"It was a bit of an anti-climax in the way it went," admits Joe. "But we are relieved to pass it."
Learning of their all-conquering success may have been somewhat disappointing, but there is nothing unhappy with United's performance this season.
Their successful campaign began with a 5-0 win over their sister club and it threatened to be a procession to silverware as they won their first nine games on the rebound.
That streak was ended by Melville three weeks ago and a 0-0 draw with Lakes followed, suggesting a more exciting end to the campaign, ahead of their 10-1 triumph last weekend – the second time United have scored 10 in one game, having beaten this weekend's opponents Claudelands Rovers 10-0 in May.
Otūmoetai United beat 10 Claudelands Rovers earlier this season, with Phoebe Hawes scoring a hat-trick. Photo. Leigh Hawes/Otumoetai FC.
There have been a few key reasons for United's success in the W-League. Brea Venimore's 18 goals put her at the top of the league scoring charts.
Other team members have earned international recognition for their efforts. Phoebe Hawes was recently invited to a New Zealand U-17 camp while Lilly Muspratt represented her country at the World University Championships in Portugal last month.
A mix of incoming talent and a carefully curated core seems to have been the winning formula.
"It took a long time to prepare," says Joe. "We had a few players new or returning to the region who joined us.
"On top of that, we've built a core team over the past two years, full of young players.
"They have matured a bit, as well as these new players who have come to excel in the group."
The coaching staff of Carl Newby and Nathan Metzger also receives special praise from their manager.
"They're a real asset," says Joe,
"They have a real understanding of the women's game and a real love for it and that clearly shows with the passion and the people who want to come here."
Last week, 87,192 fans packed Wembley Stadium in London to watch England beat Germany in the UEFA Women's Euro final, a record crowd. Closer to home, the Wellington Phoenix are heading into a second season of professional women's football and the FIFA Women's World Cup will be held in New Zealand next year.
Women's football is clearly on an upward trajectory globally, nationally and, as Joe points out, regionally.
"We've seen growth in women's football this year and we've launched a skills school for girls in the youth space this year, which is also going very well," he explains.
"So you can definitely feel there's more hype around the women's game and that's something that we're pushing quite a lot."
As for Otūmoetai United's ambitions, the image of the promotion is still unclear. A review of the women's game is underway with the idea of ​​a mid-tier league floating between the W-League space and the current leg, the NRFL Women's Premier League.
Last year's W-League winners Tauranga City entered the NRFL for this season. It proved an important but also sometimes difficult step for City, who have won just once in 15 league appearances this season.
United would be "well suited" at a middle rung of the ladder, Joe says, but while the wait to find out what's next can be frustrating, this weekend is all about recognizing the achievements of this term.
"There's a game on and we're hoping to get some people in and some of the junior girls," Joe said.
"Some celebrations after the game as well of course."
Otūmoetai United will face Claudelands Rovers at Fergusson Park this Sunday. Kick off is at 11 a.m.
– Article originally published by Mathew Nash/Match of the Bay.