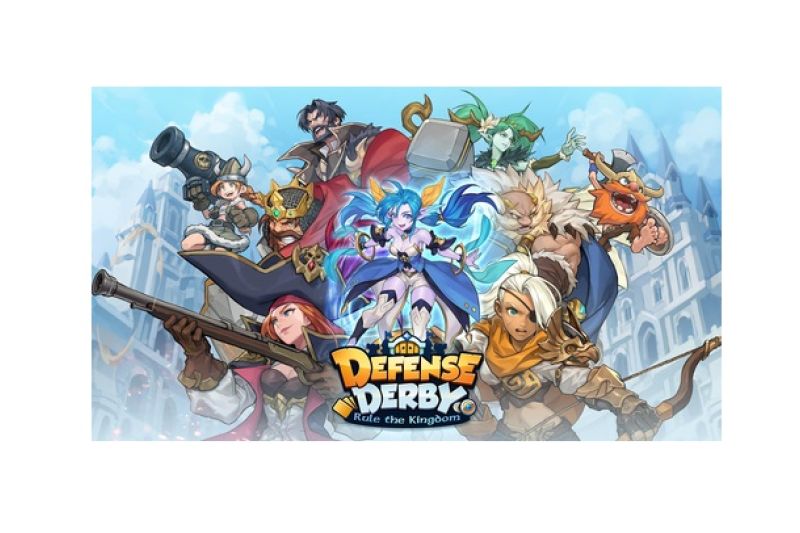 Game developer RisingWings announces Defense Derby, a strategic tower defense game
From September 15, players can download the game via Google Play to participate in pre-testing

Seoul, South Korea–(ANTARA/Business Wire)- Leveraging its experience in developing leading mobile titles (archery king, king of bowling, mini golf kingand Golf King: World Tour) RisingWings, a subsidiary of KRAFTON, Inc. (KRX: 259960), has announced the official global pre-test schedule for its new real-time strategy defense mobile game, Defense Derby.
Pre-launch testing for defense derby is designed to present a much higher quality game by reflecting user feedback before the official launch. The tests will take place from September 15 to 30, and users can download the game from Google Play to participate in the tests.
defense derby is a strategic player versus player (PvP) defense game with an added real-time bidding system for a new experience in the tower defense (TD) genre. Each turn, four players obtain cards through an auction and build their decks with the acquired cards. Then they defend their castles against incoming monsters until the last survivor is crowned the winner. As powerful synergy effects can be created based on race, attribute, and card placement, players can enjoy strategic gameplay by taking advantage of various card combinations. Single-player modes, such as Blitz and Dungeons, are designed to provide a more immersive experience in TD-style games, while PvP mode provides the thrill of competition.
"defense derby will deliver immersive and intense gameplay by introducing strategic card combinations to create various synergy effects, and adding the bidding system to make bold moves by predicting the opponent's next step," said Moon-chul Kang , vice president of RisingWings. "Before the official launch, we are asking for player participation and feedback during global pre-release testing."
About KRAFTON, Inc.

KRAFTON, Inc. is a collective of independent game development studios united to create innovative and engaging entertainment experiences for gamers around the world. The company consists of PUBG Studios, Bluehole Studio, Striking Distance Studios, RisingWings, Dreamotion, Unknown Worlds, and 5minlab, each with their own unique expertise.
KRAFTON is responsible for leading entertainment properties, including PUBG: BATTLEGROUNDS, NEW MOBILE STATE, The Callisto Protocol, TERAand ELYON. As a technology-driven company with world-class capabilities, KRAFTON seeks to expand its business areas beyond gaming, into multimedia entertainment and deep learning. For more information about KRAFTON, please visit https://www.krafton.com.
About Rising Wings

RisingWings is a South Korean game development studio focused on creating mobile games that everyone loves and enjoys. RisingWings is on a mission to become the most popular mobile game provider and continues to build on various hit mobile games, from real-time strategy to casual games such as Castle Craft, Castle Burn, archery king, king of bowling, mini golf kingand Golf King: World Tour. For more information about RisingWings, please visit https://en.risingwings.com.
contacts

Rising wings
Jihyun Park
Source: KRAFTON, Inc.