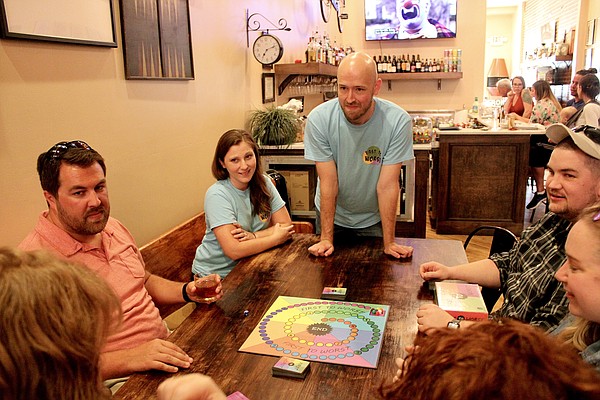 Cork & Board hosts local game maker for event
It's not every day that you hear the creator of a board game explain their creation and rules to you, but those who gathered on Wednesday evening at Cork & Board had this opportunity.
The gathering was the first of Cork & Board's "Meet the Gamemaker" events, which give attendees the opportunity to meet the creators of board games.
The first event spotlighted "First To Worst", a game created by local game creator Clayton Toebben, from ZQM Games. The game, which launched in 2020, sees players use their skill – and a bit of luck – to prevent their pawn from reaching the end of the board while forcing their opponents into last place, a kind of race against each other. towards finishing it. The game uses a game board, dice, stackable counters and a deck of special cards.
Toebben said the variety of maps, in addition to a mechanic that sees pieces stack on top of each other and move together, created a unique experience in each playthrough.
Toebben has stated that board games have been a lifelong passion of his, and several years of brainstorming and playtesting eventually led to "First to Worst", his first published game.
"I've always really enjoyed making games. I had friends come over and it was just something I did – I always wanted to make games more fun or go faster when playing with friends, and that resulted in creating my own game," Toebben said. "I don't really do it for the money, I just like to see people having fun."
Throughout the event, he explained the rules of the game, answered questions from a full table of attendees, and joined them for a few rounds.
One of the attendees, Ben Cook, said he had already played the game at Cork & Board and had come to enjoy an evening of entertainment and games with Toebben and other fans.
"I had heard he was going to be here and I wanted to talk to him about how he made such an innovative game that is unlike anything else," he said. "It's interactive, and every turn you're doing something. You're not just waiting for something to happen."
The Cork & Board team hopes to hold more events in the near future, co-owner Cara Alexander Stark said. "First to Worst" is among the game-based bar and cafe's most popular offerings, she said. Coupled with the fact that it was created by a local, it was the perfect choice for the first event of its kind at the popular downtown location.
"We've been trying to do more community events like this. We got this game a few months after we remodeled the bar, and it's one of our most popular," she said. "A lot of people don't even realize it's from Missouri; they take it and have a lot of fun, and that made us want to bring Clayton over for it.
"Our goal with these events is to bring in as many games and game creators made in Missouri, because there's a huge community for that," she continued.
Next week will see another first for the team with its first Open Play event, where they will teach attendees how to play Dominion, a deck-building card game, before attendees pair up to play a few rounds. This event is scheduled for 7 p.m. on June 29.
Cork & Board is located at 124 E. High Street and is open from 3 p.m. to 10 p.m. Tuesday through Thursday and 3 p.m. to 1 a.m. Friday and Saturday.
You can read more about "First to worst" on zqmgames.com.