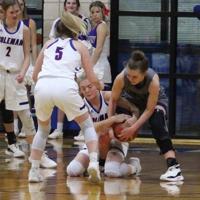 Bluekatts Give Roscoe Tough Game – Play in Winters Friday | Sports
Even though the Bluekatts fell to district leader Roscoe Tuesday night 30-37, they felt pretty good about the game. The Katts outplayed them in the first and last quarters, surprising Roscoe after the first fight between the two.
The whistles blew on the Katts for fouls 23 times and for Roscoe 21 times, fouling three for Coleman and two for Roscoe. Because of whistles, free throws were a big factor in scoring – Roscoe made 21 of 31 (67%) and Coleman 14 of 24 (58%). This meant that both teams only scored 16 points from the field; five 2s and two 3s were the outside shooting range for both.
The 2nd and 3rd quarters were factors in the loss, when Coleman scored just one field goal between the two and 7 points overall, including free throws. Roscoe's 18 points during that span took them by 10 at the end of the 3rd. Led by 13 with 5:03 left in the game, the Bluekatts did not give up! At 2:09 a.m., the Katts were still under 10, but timeouts kept the clock from ticking too quickly. Coleman got under 5s with 16.1 seconds left in the game. We failed to shoot and Roscoe ended up scoring one last time, making it a seven-point win for them.
It was an exciting game with fans who had something to cheer about, and they did. The student body and cheerleaders kept the noise level going in the final quarter as they watched the Katts fight back. The Bluekatts have stepped up their game and look forward to heading to Winters on Friday to face their next district opponent. The Katts are now 2-4 in district play, but can advance in the race by winning the remaining games.
Friday at Winters, JV Girls will begin at 4:00 p.m. with JV Boys, Varsity girls and Varsity boys to follow. If you can't be there, listen KOXE.com or the KOXE app while Randy Turner and Brock Bouldin bring you the game LIVE. Roscoe game score and stats are as follows:
Bluekatts 30 – Roscoe 37
Katy Elder – 11 points, 13 rebounds, 1 loss
Kamyn Hale – 9 points, 3 rebounds
Brylei Gilbreath – 5 points, 2 losses, 4 steals
Tessa Arnold – 3 points, 4 rebounds, 1 assist, 1 loss, 1 block
Kele Salinaz – 2 points, 2 losses, 2 steals
Carlie Tibbetts – 6 rebounds, 1 assist, 3 losses
Aislyn Cox – 5 rebounds, 3 losses
Vallyn Rosales – 1 assist, 1 steal
JV Bluekatts 21 – Roscoe JV 34
Alana Young – 6
Chaney Rosales – 5
Micah Riggs – 4
Baryn Vann – 4
Kenlie Castleberry – 2