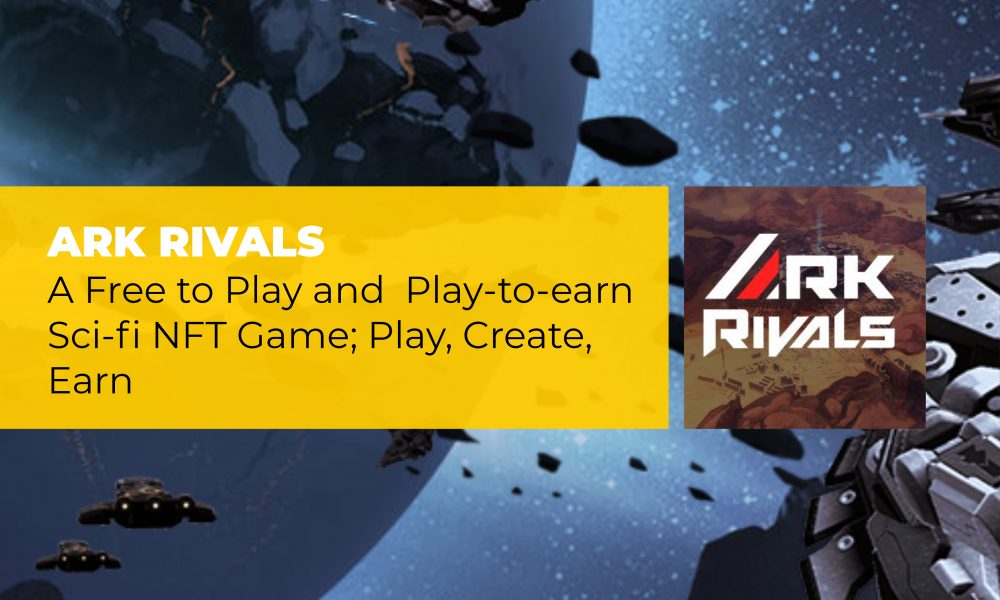 Ark Rivals: a FreeToPlay and PlayToEarn sci-fi NFT game; Play, create, win
The developers do everything to turn great stories into simulations that appeal to the gaming audience. Play-to-earn games come in different character or avatar designs, from pets to ancient creatures to human animations. The central character conveys the theme and locks in the player's interest. These play-to-earn games hosted by CryptoTvPlus include Blocksport, Crabada, Arenum, Blockchain Cuties, Endless Battlefield, Metarun, and many more.
Ark Rivals is a user-generated content NFT game with sci-fi action strategy that allows players to play, create and win. The gameplay follows an attack and defense mode, players wage war with their airships and attack enemies and develop a strong base against attacks from other players using game resources. Ark Rivals is a free creative game that rewards creativity players when they join the game, buy land, buy an $ARKN miner, or join Faction Wars.
What the project aims to achieve is communicated in its mission and vision statement.
Ark Rivals game
Ark Rivals revolves around battles, UGC base building, resource gathering, and leveling up. To establish a base, players create buildings according to their design and taste. Buildings are constructed using gold, players mint gold to erect their buildings, upgrade them and achieve a higher production rate.
Resources acquired through player-built mines are stored in the ark; the ark is the core of the base and needs to be upgraded to house the mined resources. Players defend their base using the in-game defense buildings, to protect the base from enemy attacks. Landmines wreak invincible havoc, Shield Generator protects home structures from attack, Bolt Thrower; "electrocution", the flamethrower does not work for air units but is good for igniting incoming enemies. For air unit targets, use missile turret instead, photon cannons are used against spaceships, Mini turret is a barricade for enemies.
Weapons and walls are not enough to keep enemies away, the player creates his custom commanders, ships and squads to defend his base or attack his enemies. The custom squadron consists of the player's soldiers, where the player is the commander controlling his ships and signaling his soldiers to attack enemy bases. Ships are of different types and parts, each has a unique skill and stat. Commanders have two levels of rarity: Legendary Commander and Immortal.
Commanders not only go for war or attack, but they also go on missions to gather resources (gold, hyper fuel) with which to build their ARK base. The player boosts his ships, commander and soldiers with the in-game Hyper Fuel Pump. Gold and Hyper Fuel are the in-game currencies, they are produced by the Gold Mine and the Fuel Mine respectively. Gem, also an in-game currency, is used to summon ships, commanders, and Arkadium, a powerful stone that possesses the ability to increase a player's gaming power.
Players' battle formation is tested in faction wars; a player vs environment world war where players buy NFT land in one of these 5 Mars, Jupiter, Saturn, Uranus and Neptune factions to amass faction resources and win wars. The war will last 30 days. Players fight against other players by attacking their bases and looting their resources.
Read also
Toyovere: The Metaverse for Bad-ass Living Action Figures
Explore Mobland; The Free-2-Play-2-Earn Mafia Metaverse
How to build and conquer planets on 0xUniverse
LooksRare: Introducing the First Community NFT Marketplace
Top 10 celebrities who bought NFTs
Ark Rivals template free to play and play to win
Most Play-to-Earn games are accessed through potential user wagers and the game's initial payment. Their design is often complicated and unfriendly, requiring a good knowledge of the game before getting started. Many projects have studied the barriers of market play and put in place strategies that mitigate the difficulties of players. Ark Rivals offers basic criteria with which they intend to close the gap in difficulty of access to the game.
Play-to-earn games are backed by cryptocurrencies, they are used as in-game tokens to operate the game ecosystem. As a requirement for most games, players must purchase a certain amount of these tokens and betting them to participate or a certain amount of the in-game token in the players wallet gives them access to participation. Ark Rivals in their free-to-play and free-to-get model will allow players to familiarize themselves with the platform and play the game before any funds are committed.
NFTs are valuable when holders understand their value. Ark Rivals is an NFT game that will help the players of the platform to get a full knowledge of the power of NFTs through their community channels. This will give platform users insight into the value of in-game NFTs they hold both in-game and outside of the in-game ecosystem.
The ecosystem earning mechanisms are summarized in mining, holding, and rewards.
Mining: Players can farm their NFT items in-game and put them up for sale. Players who need it buy the NFTs, the seller earns by farming and selling while the buyer earns by selling the later purchased items.
Awards: Players choose a faction from 5 planets in the world, these planets are engaged in battles. A player who chooses to represent their faction and brings them victory has a great reward awaiting them.
Holding: governance/voting, profit sharing and staking are open to investors who hold $ARKN.
Ark Rivals NFT and Tokenomics Articles
Ark Rivals has 5 NFT items in the game and each has different rarity levels and a unique skill set.
Ships: 2 rarities, legendary and Arcana.
Commanders: 2 rarities, legendary and Arcana.
Arkadiums: magic galaxy stones with various power sets and bonus buffs
ARKN Miner: used in Mining $ARKN tokens.
Earth: Faction lands are limited, so players must take two steps to get an NFT land in one of the factions.
The $ARKN in-game token is a Bep-20 token with a maximum reserve of 1,000,000,000 ARKN. Grants holders a reward for their ownership and an opportunity to contribute to the Ark Rivals ecosystem.
Distribution of tokens
Team and Partners
With a management team of four, an excellent board of advisors and a production team, Ark Rival is still at the beginning of its roadmap, but benefits from the partnership of key investors. Polkastarter, Master Ventures, Bitscale capital, Jsquare, topebox and Kardian chain; a Blockchain infrastructure in Vietnam and South Asia that provides Blockchain solutions to individuals and institutions.
Topbox is a game industry founded in 2012 and the driving force behind the Vietnamese game development industry. Has over 55 games under his belt with a global reach of 9+.
What do you think of this article? Share your comments below.